AND HERE ARE SOME FANTASTIC RESULTS !!!
CATH DOWNS RECEIVING HER TWO STONE CERTIFICATE
I started on KSFL on the 16 week plan. In that time I have lost 2 stone and 1/4 lb, I have so much more energy, am sleeping far better and feel wonderful. I have now signed up for another 16 weeks as I want to lose more weight but also to keep me on the right track. The 16 week plan includes 2 exercise classes of your choice per week, I do Zumba and total body workout. It also includes a diet class, books and support from Paula
I will admit it hasn't been easy as I have issues with my health, and have had my Dad in hospital for 3 weeks while I was following the plan which meant I couldn't stick to it and couldn't attend any classes, but I didn't give up and Paula supported me through it all.
I started on KSFL 8 months after I had had my third operation for breast cancer and 6 months after I finished radiotherapy, so my health was in a poor state but it also meant some days I was too tired to exercise and I was vulnerable to other illness so missed classes due to that too.
As I have seen the weight fall off and my skin looks visibly better I have gained more and more determination to continue, the clean eating is so easy to do and I feel so proud of myself at the supermarket checkout when I have a trolley full of healthy foods, it's amazing how quickly you can shop as well when you cut out all the ready meal aisles.
Many people are commenting on my loss and how well I am looking so my confidence is growing too, I lost a lot of this when I was having surgery.
KSFL isn't like other diet classes where you only get praised when you lose weight, if you have a bad week Paula boosts you up and encourages you, and certainly doesn't make you feel like you have failed. She is there at the end of the phone or email should you need her which is great to know.
I would recommend that you try KSFL, I certainly don't regret it.
Cath
TERRI JOHNSON
"Joining KSFL Stockport has changed my life. My Psoriasis was at its worst, my clothes never fit and my confidence was non existent, in such a short space of time I no longer feel overweight, tired and miserable.
Within 3 days of the Detox I was feeling a lot better, this gave me the incentive to complete the full 28 days, this resulting in me losing 13lb and 16 inches and becoming a happier person. You feel and see the results so quickly and I no longer feel sluggish, I am more confident and my psoriasis has finally started to clear up.
The KSFL plan worked for me because it isn't confusing, all I had to do was eat foods from the KSFL shopping list and it wasn't as restrictive as I first feared. I am determined  to continue with this lifestyle change forever not just until I meet my goal weight which will be early 2016.
I can not thank Paula Thompson of KFSL Stockport enough, she has been extremely supportive, friendly and always consistent with her mentoring and advice, this has proved invaluable to myself and other members of the group."
Thanks Terri
VICKY BLUFF RECEIVING HER TWO STONE CERTIFICATE
Hi, I'm Vicky and I started on the KSFL plan in the middle of January. It was a difficult decision but it was the right path to take. When I first looked at the plan I was wondering if I could ever keep to it.
Soon after starting I realised that I had a few major events coming up that meant eating out. How was I going to fit them in? Well no problem there. I just discussed things with the group and was able to navigate through eating out and still losing weight. I simply looked at the menu and requested things I knew that I could eat on the plan. If potatoes came with the food (as often they did), I simply left them at the side of the plate or politely just ate a small one. I allowed myself alcohol in small amounts at these events and I knew that I could move onwards confidently from that meal knowing I could get back on track for the next meal.
The plan as a whole I have found easy to follow and fit into my family life. If anything I have altered my whole family's way of eating just slightly to fit. My children still have carbs, sugar, gluten and things like that in small amounts.  I simply don't have them myself replacing them with things like courgette, boodles (Butternut squash noodles) and cauliflower rice.
I am stunned at my results. I have been exercising to the best of my ability due to back problems and asthma. I have tried Paula's Zumba class which was good fun. But I had to stop due to my back problems. So now my daughter and I have taken up karate lessons and I am starting the Pilates class next week. I am also walking more places instead of driving.. In the first 28 days I lost a total of 15 inches from around my body and it's still coming off now. Yes, I have had two separate weeks when I have either maintained or gained. But I have known exactly why it has happened and have been able to put things right.
Since losing the weight and inches I have felt a lot happier and healthier. I actually look forward to Thursdays when I come to the group. During other attempts to lose weight I have dreaded going to be weighed. I really like the way that Paula runs the group because it is shame and guilt free. You weigh yourself and you make the choice of whether to share your results or not. I find the group a happy and comforting place to belong. Everyone is friendly and welcoming and never ever judgemental.
So I can honestly say coming to KSFL really has changed my life! I'm hoping it will continue to do so.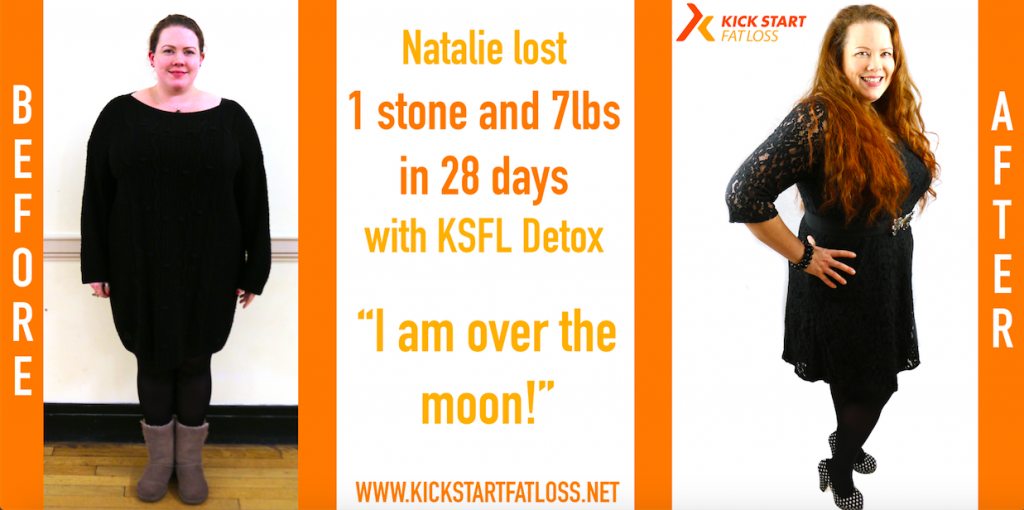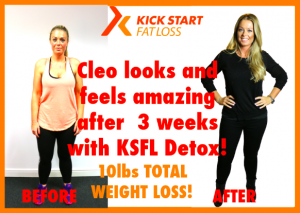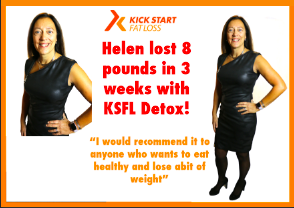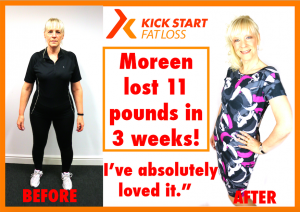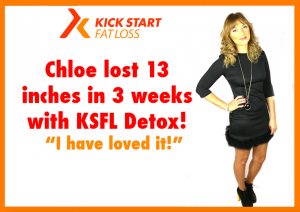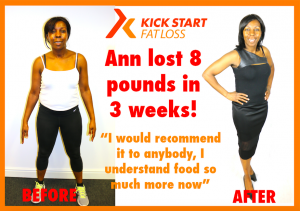 Don't they look great?!
This could be you!!!
ANNE MULLIS – her uptake re KSFL
Ok my 28day detox diary:
So going into this I was a bit alarmed at the word "detox" I generally thought of carol vordaman with her three day eat nothing and drink only tea etc etc.
Anyway day one I was given a detox booklet with all the info I needed, some recipes of actual food which I was so happy about, you get a shopping list which basically you can get all from aldi so doesn't cost the earth!
Again in my mind I thought detox would involve lots of expensive ingredients and things I've never heard of, but no it all seemed relatively ok, the fact eggs and bacon were on the list made me happy for breakfast!
You have to do your weight and measurements which are always bad when starting a diet, record those in your detox booklet and away you go!
Day two no sugar wow that was hard bearing in mind I love Haribo (I used to skip meals so I can have a bag of Haribo) but it was like I was actually going through the proper drug detox, I was hot cold irritable just awful, my advice ,do a job on day two get out of the house keep yourself occupied, I actually though Christ I'm never going to be able to do this detox this is hell!
For me giving up caffeine again was hard, who doesn't enjoy a costa in the morning but I replaced with green tea an peppermint tea, this will become your best friend in the 28 days!
The rest of the first week was ok, the initial meltdown on day two passed and I was focused on getting to end of week one, weigh in lost 8lb and whopping 7.5″
Second week weight loss 4lb and 2.5″
Third week 2lb weight loss 3″
Fourth week 2lb weight loss and 5″
Total 16lb and 18″ in 28 days!!!! This gave me the complete high as actually I wasn't detoxing in my mind, I was full all of the time, didn't need to snack in between meals as basically you eat loads at every meal, in fact week two and three I was actually struggling to eat three meals a day and was only eating because it was the time to! During the days I was drinking peppermint tea, in the evenings when normally I'd have piece of toast or glass of wine , was replaced with peppermint tea and with all the water you drink you are so full you don't want to snack!
I used the meal planner in the detox booklet to record meals eaten this way I have a complete record of what I've eaten,
Generally I have learned to love my kitchen, I actually cannot remember the last time I really enjoyed cooking , I now cook everything from scratch and do a lot of healthy baking using gluten and wheat free ingredients.
Obviously being a lady and 28 days cover the whole month, the hormone few days were quite bad but actually I wasn't doubled over in period pain that normally I am, when I needed the chocolate fix I had a small piece of 85% cocoa choc (from aldi) out of the fridge and put it under my tongue to melt, that's it that's all the hit I needed.
Bad days Yep I had a complete meltdown on day 26 after going to Alton towers and having an argument with my friend , I had a donut and red wine!
Now I love my red wines like love them but actually since this detox my taste buds have actually changed no word of a lie, I actually managed about half a glass before I couldn't drink it as it tasted vile ! Donut however tasted great!
So yes all in all the 28 day detox well I wouldn't call it a detox I would just call it clean eating (just taking caffeine alcohol wheat dairy yeast starch gluten carbs out) so meat veg eggs and some fruit.
I have learnt so much about sugar and natural sugar it's amazing all of a sudden you look at foods In a different light, you actually start looking what you put in your body!
Ooh poo ! Yes poo talk, I found that I wasn't going to the toilet as often but actually if you are not filling your body with toxins then you won't have as much to poo out! Frank but true!
Over all I feel like I am clean, it's strange my skin and hair feel so much better, I'm sleeping like a log, I feel like I'm actually treating my body the way it should be!
Takeaways Yep Saturday night takeaways in our house, so I adapted I grilled chicken skewers in garlic and chilli cut up and ordered a salad from the takeaway just to feel like I was a part of it as well, it worked!
Eating out yep we went to Blackpool whilst on this and ended up having pub lunch I just had lots of salad and a mixed grill!! Yep lots of meat!! So you can adapt quite easily on the 28 day detox you don't have to just sit at home feeling miserable as on most detox! You actually eat LOTS!
Well I hope I've given you an insight into my 28 day plan I'm now on the Elimination program until Xmas which after seeing my results so far im quite excited about, I took a before photo and after 28 days photo I've actually lost a dress size it's amazing! I think any diet that makes you full on eating and losing so much weight and inches doing so, is a diet worth doing ! I RECOMMEND !

Lynn Platt – As a close friend of Paula I was interested in KSFL when she told me about it as I needed to shed a few pounds.  I had reservations about giving up my beloved coffee and wine, however, after hearing and reading so much positive feedback, and the thought of my upcoming holiday I took the plunge and joined. I have been following the plan for 22 days and have had amazing results, I've lost 10 inches and 14 1/2 lbs. I feel great, have much more energy and importantly never feel hungry.  Bikini here I come !'
Annette Ritson
I joined KSFL in January and I'm really pleased with my results.  Before starting KSFL I suffered daily from headaches and generally feeling lethargic.  I can honestly say, after week one, I have not had one headache which is absolutely fantastic as I had previously sought medical advice and nothing worked.  I am over the moon with the amount of weight I have lost (15.5lb) and I am continuing with the detox as I have more weight to loose.  I thought the hardest part of the detox would be giving up coffee and alcohol but I don't miss it or the horrible hangovers I suffered from!!!  I would thoroughly recommend KSFL and our instructor Paula – she is very motivational and supportive.
From Kars Duck – 28 Day Programme
I am delighted to tell you that after my 28 days of detoxing with KSFL I lost 23 1/2 inches & 27lbs! I no longer crave 'naughty foods' I don't miss my coffee or diet coke, I am LOVING my 'clean' food & sticking to the 3 meals a day on the plan I rarely if ever feel hungry! I enjoy my workouts each day, feel fitter, have more energy & my general 'mood' is so much better! I am amazed, suprised & delighted with the results & am definitely going to be carrying on with the maintenance plan. HUGE thankyou Paula for the support, encouragement & of course the introduction to KSFL, I am loving the new 'clean' smiley & 'smaller' me! 😀 x
Darren Berry, 28 day detox
Well, I've finished my 28 day detox diet…total weight loss 22 1/2 lbs and 12inches. My goal now is to maintain my current weight, eat healthily, exercise and moderate my alcohol intake !! Thanks to Paula Thompson who runs the Kick Start Fat Loss club for her help, advice and encouragement.
Sue Hughes did the KSFL® Flexi package. Well I am just going into my 4th and last week of my KSFL detox and I have to say I am feeling fab. Loads of energy, really feeling well in myself and wearing a big smile on my face as I've just done my week three weigh in and my total weight loss to date is 11lb and my inch loss is 11".
I suffer from migraines and had a long bout of illness due to this earlier in the year so I was worried going into the detox I may make myself unwell – there was nothing to worry about. My Dr said yes I was likely to have some headaches but the benefits would outweigh the short term symptoms – she was right. I did have a few headaches in the first few days and felt a bit low energy but no more than anyone else reported, when I got to day 4 I started to really pick up and now at the start of week 4 I'm buzzing with energy.
I've also not been hungry at all – I was used to fruit snacks twice a day and they seemed to be the only thing to help me get to lunch and dinner. My tummy would grumble away from 12 onwards if I didn't feed it. I don't have any of that anymore. I don't need my snacks – I actually don't even think about them and sometimes it has got to 1-30 without me realising I am starting to get a little hungry.
I have struggled with the breakfasts – my body and mind really struggled for me to have vegetables and more than one egg at breakfast time. I tried different things and found the soup (which was one of the things I thought I wouldn't like at that time of day) really worked, especially on the days when I was working and getting up really early. Mushrooms and tomatoes are veggies I seem to find acceptable in the morning so I have used them.
I did struggle at first with the lack of salt for seasoning whilst cooking – but i persevered and with a few great tips from Paula and Mike on the face book page I found different ways to get the best flavour out of my food.
I thought i would struggle without carbs such as potatoes, pasta etc. but surprisingly I haven't.
I have been able to have friends over and cook for them and I have managed to eat out when caught on the hop without food (had a macdonalds salad whilst watching my husband eat a burger and chips!).
My weekly chats with Paula have been great little motivators – they have kept me on track, helped with any questions and advice and it has been great to get that little extra encouragement.
Without a doubt this has changed my thinking and eating habits and losing the weight and inches and feeling so great absolutely has been worth the discipline and commitment you need to put in.
How Kate Barnes has coped with the 28 day detox
I'm on the road 4 days out of 5 with one in the office. I've coped really well on the plan – I think mainly because I'm not a fussy eater and I really want to lose weight so it's a small compromise to make. Seeing the steady weight loss has really motivated me and I love coming to the classes and try to take on board all the hints and tips you offer.
What you say each week is right – it's all down to planning ahead and that is the biggest thing. I'll look at my work schedule for the week ahead and work out my meal plan for the week and then go shopping or do an on-line order to be delivered.
My Organic Veg boxes are delivered on Thursdays which allow me to do a load of batch cooking at the weekends.  If I've got a particularly early start I'll have the soup for breakfast (take it in a food flask) or take a couple of pre-boiled eggs with me. I double up when I'm preparing meals – poach twice the amount of chicken or salmon. I've got batches of 'clean' turkey mince chilli/lamb stew in the freezer to defrost ready for an easy tea if I get in late after a long day. I make up packed lunches that I can eat in the car – poached chicken with salad leaves, chopped courgette, peppers and a splash of balsamic. I have a supply of disposable cutlery in my glove box (sad or what!). Worse case scenario I'll pop into service station (I always choose ones with an M&S or Waitrose) and pick up some fresh prawns, cucumber sticks or plain green salad (I remove the separate dressing). I've noticed that a lot of the packaged roast chicken has citric acid and sugar added so you do need to read the ingredients to keep it 'clean'.
I've not lost huge amounts of weight but I wanted a steady progress and as long as I keep losing then I'm heading in the right direction. This is the first diet I've tried where I haven't gone back and forth with my weight so it's clearly working for me.
Jayne Hardman – Would just like to say how amazed I was after being on holiday for a week in Cypruswith friends. Lots of nice meals out and drinks to follow and I never put any weight on. I would normally go away and put on at least 1/2 stone. KSFL – Well recommended
Kick Start Fat Loss™ – An amazing testimonial from Mike Walton
I decided that enough was enough, I had given up smoking and the results were showing, I was now3 stoneheavier, about to turn 40 and generally all round unfit.
My Wife had completed 2 of Paula Thompson's Dance Fit Boot camps with fantastic results and was talking about joining her Kick Start Fat Loss plan and asked if I wanted to join with her.
I thought about it and decided that I needed to do something and would go along and see what it was all about. The Classes are made up from a motivation nutritional talk and 30 mins Hit Workout exercise.
Paula went through the KSFL Manual and explained how the plan works, how for 28 days I would have to detox, giving up alcohol, caffeine and most of the foods I ate on a daily basis. I was worried that this would be something just for women but as I turned up there were other men already completing the 28 day detox  with great results this gave me hope that it would work for me too.
I decided that as I was a big Coffee drinker and this would be the one thing that I struggled giving up that I would stop this straight away and then start the plan a few days later when I had all the foods in and could plan the meals. Surprisingly I didn't have any side effects from giving up the coffee as I know some of the others have which was a bonus.
The exercise's are by far not easy and push you every session, there are modifications for which level your at which really helped and also made you try harder to complete a higher exercise level.
The foods are back to basic's, fresh meat, fish and lots of green vegetables but there are lots of things you can do as you can use all sorts of herbs and spices.
I didn't used to eat Eggs but these became a part of my daily diet as did having a lunch style breakfast. I am a qualified Chef and loved experimenting with different recipes. I was amazed with how much you can do with the ingredients your allowed and I started to see the results straight away.
Week 1:                               4lb         3 inches
Week 2:                               1lb         4.6 inches
Week 3:                               4lb         3.5 inches
Week 4                                 4lb         3.5 inches
Total after Detox:            13lb      14.6 inches
I also found that week on week I had lots more energy and could run around with my little boy without having a rest and getting out of breath.
I decided that as I was doing  so well and was seeing the benefits every week that I would carry on, I signed up for another 28 day detox with Paula.
I was used to what I could eat and was completing the online exercises with Rachel as well.
Over the following 28 days my total loss was: 19 lb 19.5 inches and the results were visible.
I went over to the maintenance part of KSFL and bought the exercise DVD, the workouts are easy to complete at home but you are also continuing at the classes as well.
I have introduce only some foods back into my diet and now know what I can and can't eat, I enjoy my treats but know that I can easily burn these off my completing the workouts.
KSFL has changed my outlook on food completely and I know that I will not go back to the old ways, my results 24lb and23.5 inchesand still losing show that this plan also works for men. I am continuing with the exercise classes and I am confident that I will continue to see the results, I Couldn't be happier and would like to thank Paula for her motivation and support, when the mens KSFL classes start I will be the first one to join up".
KSFL HAVE HIT THE HEADLINES
Frumpy Coronation Street comparison twice her age led Jemma to lose an amazing SIX stone
Jemma Hawton was so horrified when she overheard a stranger saying she looked like a frumpy middle-aged Corrie character that she vowed to shed the pounds
It was supposed to be a romantic night out for Jemma Hawton with her fiance.
But it ended in humiliation when a passer-by shouted that she looked like Eileen Grimshaw from Coronation Street.
Jemma Hawton, 25, was so mortified that she looked like the soap character – played by actress Sue Cleaver – that she joined a slimming group a week later.
She pledged to avoid the junk food and sugary snacks that had made her balloon to a size 20 and in 11 months the Aldi store assistant shrank down to a size 10.
"Eileen Grimshaw is one of the characters on the show who is well-known for her frumpy frame and yo-yo weight gain," says Jemma.
"I couldn't believe anyone would think I looked like her. She was much older, for a start. He was obviously just drawing the comparison because of my size. It really upset me. But now I feel fantastic."
Even though Jemma, from Banbury, Oxon, was an avid gym-goer and exercised for six hours a week, her stodgy diet of pizza and chips meant her weight had risen to a hefty 17st 12lb.
"I was never skinny but after I had my little girl, Lily, in June 2011, I was shocked to discover I tipped the scales at almost 18st," she says.
"I had put on four stone during my pregnancy alone. At 6ft 1in, I can carry a bit of extra weight but, even so, I looked fat and frumpy.
"As I went to the gym regularly I assumed I'd work it off. Despite my size, I was a gym addict – attending classes six times a week.
"Sometimes I'd work out for two or three hours. I was fit enough to handle it – but as hard as I tried, the weight just wouldn't shift. I loved my food too much.
Then: Jemma tipped the scales at 17st12lb
"After a tough session at the gym I told myself I deserved a massive portion of pizza, served with a huge helping of chips.
"I constantly snacked on chocolate and washed it all down with two litres of full-fat Coke every day. I could easily eat a big bar of Dairy Milk and now and again I ate four Mars bars in a row.
"I honestly thought it was OK because I was such a regular at the gym. But despite all my training, my unhealthy diet left me feeling lethargic and sluggish. I hated vegetables and used that as an excuse for piling my plate with junk food and eating lots of snacks."
But as little Lily began toddling around, Jemma ­struggled to keep up with her energetic tot. And as her weight increased, Jemma's confidence started to plummet.
"I couldn't run around with Lily in the park and I dreaded the day I had to take her to a theme park in case I couldn't fit on any of the rides. I began to get wary of people looking at me in the street too," admits Jemma.
"With my towering height and weight gain I felt huge compared to everyone else – like a giant. Soon I started making excuses to stay in and avoided going out altogether. Clothes shopping became completely horrible. Shops never had my size and I looked awful in everything I tried on. I was too scared to wear bright colours and ­fashionable clothes."
Then in September last year, Jemma went away with her fiance, Sam Martin, 25, for a weekend in Birmingham. "It was ­something I had been looking forward to – time for us to enjoy each other as a couple." says Jemma.
"We went out for a few drinks and as we walked past a group of men, one of them pointed at me and shouted 'Look, it's Eileen Grimshaw from Corrie!'
"He was obviously drunk and shouted loudly. I just stood, rooted to the spot with embarrassment – I felt myself blushing as I realised who he was talking about."
Jemma knew she had to act.
"It was mortifying but it gave me the motivation I needed," she says.
"A week later, in September 2013, I signed up to a weight-loss group, Kick Start Fat Loss. The first thing the group leader, Sindy, told me after weighing me was that my main issue was my diet.
"She knew I exercised like mad as I used to go to her boot-camp classes and she suggested I sign up to KSFL. She basically said I needed to sort my eating out.
"The KSFL plan involves a 'clean' diet, which means you avoid processed food, dairy, bread, potatoes and pasta – as well as an exercise regime."
At her heaviest, Jemma ate a bacon sandwich for ­breakfast, a Pot Noodle or beans on toast for lunch and pizza and chips for dinner.
She would snack throughout the day on chocolate, crisps, cake and sugary drinks. She swapped her fatty diet for a breakfast of banana, omelette and fruit, followed by tomato soup or chicken and peppers for lunch.
Dinner now consists of home-made spaghetti bolognese, a healthy ­shepherd's pie, or salt and pepper chicken and rice.
"I found it really hard at first," Jemma says. "The first two weeks were very difficult because I don't really like vegetables or salad. I tried my hardest to try everything and didn't like it.
"But I told Sindy this and we worked together to come up with a list of recipes I could make for myself. She helped me to find food I enjoyed eating, so it was much easier from then on.
"A real benefit of educating myself about the food I was eating was learning how to cook properly.
"Before I would just buy convenience food and jars of sauces. Now I make everything from scratch and use herbs to flavour my food."
To her delight, Jemma lost 8lb in her first week on the plan and 1st 4lb in her first month. Now she weighs a healthy 11st 10lb and has come down five dress sizes.
"It's been amazing," she says. "I feel my life has completely changed for the better. My confidence has soared and I'm much happier buying clothes for myself now.
"I feel better in so many ways. My life is busier, I have much more energy than I used to and my attitude to everything is much more positive," says Jemma.
"One of the first things I did when I hit my target weight was to buy myself a brand new wardrobe."
And she says her partner Sam is proud of her efforts, too.
"The main thing for him is that I'm happier," she says. "I was down in the dumps a lot but now I go out more and try new things all the time.
"On the last holiday we went on, to Devon, I went on a zip wire and Sam was visibly surprised. Before I would have just stood and watched him do it.
"I'm also able to run about with Lily far more. I feel like a much better mum because of it. I play with her much more now rather than just watch.
"On holiday I went down water slides with her, played in the soft play area and went on rides with her – but before I felt too big to attempt any of that.
"At the time the comment about Eileen Grimshaw really upset me. But looking back on it now I'm glad it happened. It gave me the motivation to lose the weight for good."
Fat File
Weight before: 17st 12lb
Size before: 20
Weight now: 11st 10lb
Size now: 10
Jemma's Diet before
Breakfast: Bacon sandwich
Lunch: Pot Noodle or beans on toast
Dinner: Generous helping of pizza and chips
Snacks: Chocolate, cake, crisps, sugary cola
Jemma's Diet now
Breakfast: Banana, omelette and fruit
Lunch: Tomato soup or chicken and peppers
Dinner: Home-made spaghetti bolognese, shepherd's pie or salt and pepper chicken
Snacks: Fresh fruit
Sep 07, 2014 18:25
By Rebecca Wright – The Mirror
A creaking school chair shames overweight teacher into losing 9 stone
It was only when Lesley Gooch became so big she couldn't sit down to read to pupils in her primary class that she learned how to finally take control of her weight
Before and after: Lesley is a new woman
Lesley Gooch went back to school last week half the woman she was.
Just over a year ago, former teaching assistant Lesley was seriously overweight.
The tiny school chairs she used for reading with the little ones had begun to creak and groan under her 22st 8lb.
She was lacking in energy, permanently out of breath and fed up with her enormous size 30 clothes.
But it was only when life at school became too embarrassing that she finally slimmed down for good and started a weight-loss regime that saw her shed an incredible 9st in just over a year.
"I was mortified by the loud squeaks and creaks the little school chairs made when I sat down to help the kids with their reading," says 47-year-old Lesley.
"They would groan loudly as I heaved my huge bum on to them and I'd flush crimson. But I was also scared stiff they were going to collapse in front of all the children and I finally realised I couldn't go on as I was."
Lesley had always battled with her weight, but when she settled down with her husband, store supervisor Robert, 45, things went from bad to worse.
"He could eat loads and not put on any weight. I'd eat the same as him and pile on the pounds," the mum of two says.
And although she tried eating healthily, she could never keep it up for long.
"After the birth of our first son, Connor, 17 years ago I managed to lose some weight but I soon found I was back into eating microwave meals, takeaways and crisps. I got a job at Tesco and the uniform was a dress with tights. My thighs were so big they rubbed together, causing redness, and it was very uncomfortable to walk about," she recalls.
Nevertheless, she continued eating toast and sandwiches at nearly every meal and gorging on crisps.
"I was addicted to crisps and I could easily munch through several small bags or one large one," says Lesley.
"I became a secret eater, trying to hide from my family what I was up to.
"Friday nights were the worst when Robert went out to play darts. As soon as he left, I'd go to the crisp box and eat a couple of bags. Then I'd go through the fridge and cupboards, grabbing at chocolates and biscuits – anything I could binge on. Afterwards, I'd hide all the empty packets so no one would know what I'd done."
It all took its toll on Lesley's health. The asthma she had suffered since childhood became so bad that she had to wake up in the night to take her inhaler. And she found she was out of breath from just walking up the stairs.
"I had no energy and I stopped doing stuff with Connor and my younger son, Harry, who is now 12.
"When I wasn't at work, I was slumped on the sofa, doing nothing or eating," she reveals.
"If we went out or away on holiday, I'd be sitting down while they were running around. I couldn't join in or play with them.
"I stopped being able to buy normal clothes and shopped in plus-size catalogues. I didn't care what I looked
like – I ordered shapeless sack tops and baggy trousers."
Lesley tried diet clubs and calorie counting but although she had some success, she couldn't keep the weight off.
In September 2010, she got a job as a teaching assistant at a primary school in her hometown of Lowestoft, Suffolk. One of her duties was to help Year Two pupils with their reading and that meant having to sit with them on kiddie-sized chairs. "The first time I sat on one of those chairs, it was creaking like nobody's business. I was so embarrassed and felt myself blushing," says Lesley.
"I could tell the kids could hear but luckily they were very sweet and didn't say anything. I began to dread helping out in the little ones' classes and ended up kneeling on the floor to avoid the creaking but that was agony on my knees."
Eventually, she decided she couldn't take the embarrassment any more and when she heard about weight-loss system Kick Start Fat Loss through a friend on Facebook in June last year, she decided to join.
The KSFL plan involves a 'clean' diet – nothing processed, no dairy, no bread, no potatoes or pasta – as well as an exercise regime. When Lesley went to join her local group, she was weighed for the first time in years and was devastated to discover she was carrying 22st 8lb on her 5ft 5in frame. "When I saw how much I weighed, I nearly ran out of the door," says Lesley. "But I had to have a word with myself and say 'Stop! You can't go on like this any more'.
"I followed the initial detox plan (no coffee, alcohol or carbohydrates) for the first month and after a week I'd lost 15lb. I burst into tears. From then on, there was no stopping me.
"I followed the eating plan and did the weekly exercise classes, slowly building my activity up to the point where I was doing four sessions a week.
"Before long it just stopped feeling like a diet. I loved the clean, natural way of eating and when I tried a crisp, it tasted disgusting. If I ate a slice of bread, I'd pay for it with terrible stomach cramps."
It wasn't long before colleagues and parents at school began to notice Lesley's amazing weight loss and started to compliment her on the way she looked.
"When I bumped into people in the street who I hadn't seen for a while, they'd sometimes do a double take or not recognise me at all," she says.
Lesley was thrilled when she reached the 3st weight-loss mark last August and bought a dress for the first time in years to wear to a friend's wedding.
Now she's reached 13st 8lb she feels like a completely different person.
"Losing the weight has made me feel so much better. I can do things I never dreamed of before," says Lesley.
"I've so much more energy and my asthma is much better. I can go walking and swimming with the kids and I've even bought a bike.
"In the summer holidays, we all went hill walking in Shropshire. In the past I'd have just let the boys get on with it but I'm so happy I can do more with them.
"I'm a size 16 now and for the first time in years, I've started to enjoy buying clothes again."
Lesley's weight loss has transformed every area of her life, including work.
"I've gained in confidence and have a new job as a librarian at another school. I don't think I'd have had the 'get up and go' to do that before," she reveals.
So, instead of feeling embarrassed or shy, Lesley says she is starting the new school term for the first time in years with her head held high.
"I want to shout it from the rooftops that if I can lose weight, anyone can," she says. "And they'll feel so much better for doing it."